How Burkeville Came to Be
---
Wartime Housing Limited Scaled Map of Burkeville, August 6, 1943
(City of Richmond Archives 1985 103 1)
During the Second World War, residential and working life on Sea Island in British Columbia changed dramatically. The federal government took control of most of the island. With the expansion of the Vancouver Airport and the development of a Royal Canadian Air Force (RCAF) training base, and the Boeing Canada Aircraft plant (Boeing), in 1941, the Government of Canada expropriated dairy farmers to build Burkeville.
Through the Crown Corporation Wartime Housing Ltd., the federal government set in motion the construction of Burkeville to accommodate employees of Boeing. Construction began in 1941 and continued through to 1944.
In 1943, the Boeing Beam (the Boeing company newsletter) held a competition to name what became Burkeville. In its October 29, 1943, edition, the Boeing Beam announced the winners in an article titled "Contest Judges Choose Burkeville as Name for Big Sea Island Wartime Housing Project".
Burkeville was chosen to honour Stanley Burke, the President of Boeing. Since three employees entered the name "Burkeville" and the dates of submission were so close, the judges decided to divide the first three prizes equally. Bill Haddock, No. 6310, Shop 45, William E. Parker, No. 4114, Shop 88 and Dick Voelpel, No. 5004, Shop 35 each received $6.00. A few of the other names suggested for Burkeville were Priorityville, Toyler's Town, Essential Square, Fog Gulch, Catalina, Plane, Aero, Victory and Sea Island.
The Burkeville site planning along crescents and cul-de-sacs was a notable departure from the customary grid patterns. All the streets were named after various wartime aircrafts such as "Boeing, Douglas, and Catalina".
Burkeville Houses
---
In December 1942, Wartime Housing Ltd. was authorized to build 300 temporary houses for Boeing plant workers. The Burkeville housing project on the south end of Sea Island was created.
The houses in Burkeville were designed by the architectural firm McCarter and Nairne who also designed the Marine Building in Vancouver, British Columbia, and the contractors, Smith Bros and Wilson built a total of 328 houses in Burkeville.
Design features of Burkeville houses
The original houses had three house plans. They had 1 of 4 roof colours and 1 of 3 wall colours. They were constructed of wood-frame and had shingle roofs.
The "small four" had two 10' x 12' bedrooms, a kitchen, living room, bathroom which contained a claw-foot tub, and a utility room all on one level. It was a true cottage with a gable roof.
The "large four" was basically the same as the "small four" but looked more like a house than the "small four". It came with a cottage roof.
The "big six" had the same floor plan as the "small four" but had two more bedrooms in an upper floor. They had a window on each end of the upper floor. Most of the sixes were on Douglas Crescent.
There were two types of duplexes, a few with cottage roofs and some with gable roofs. The house at the north end of Lancaster Crescent was different. It was bigger and was the construction company offices during the building. It was later converted into a home that is no longer there.
233 Boeing Avenue
Dave Eastman in front of 233 Boeing Avenue in Burkeville, 1946
(H. Irene Eastman Collection)
321 Catalina Crescent
Burkeville house at 321 Catalina Crescent, around 1950
(Michael Cunningham)
1171-1211 Catalina Crescent
Burkeville duplex, 1171 and 1211 Catalina Crescent, 2006
(Eunice Robinson)
Burkeville houses layouts
All the houses had a ground level utility room accessed via an outside door (for the storage of wood and other items). It was also accessed from the inside by a small vertical sliding door (about 3'x3'). All the Burkeville houses had a large wood/coal heater in the front room and a woodburning kitchen stove in the kitchen. There was a deep laundry-type sink in the kitchen, cupboards without any doors, and thick wooden countertops.
Doug Eastman, one of the directors of the Sea Island Heritage Society, shared that in 1945, the Eastman family moved into 233 Boeing Avenue. The house had a living room, kitchen, bathroom and two bedrooms shared between his parents and three boys, so four rooms. In the late 1940s, they converted from coal to sawdust, then to a wood stove in the kitchen. And, around 1950, they converted the kitchen stove to an oil range and had an oil space heater in the living room.
Doug shared that in 1950, his parents had another boy, and, and once again, the master bedroom contained a crib. The three older boys shared one room with bunk beds and a youth bed. Their Dad, RCAF Flight Lieutenant Norman David Eastman (F/Lieutenant Eastman), converted the attic into two bedrooms. The three oldest boys took the attic bedrooms, and the youngest stayed in the bedroom downstairs. In 1958, the Eastman family moved to Seafair, another area of Richmond.
Grant Thompson, one of the directors of the Society, recalls that there were dirt crawl spaces under the houses with small pads for support posts. Grant shared that he crawled under many of these houses doing modifications on the electrical or running oil lines for new oil stoves. As plumbing became available after the war, the deep laundry sinks in the kitchens were replaced.
The houses were the bare minimum when it came to extras, but they were well built.
Burkeville houses and lot sizes
Because of lumber rationing during the war, there was only enough lumber to build a 1,000 square foot house. The Burkeville houses were fairly small, having either 700 or 900 square feet plus porches. Each house had a small wooden sidewalk that extended to the road, over the ditch. All sat on 50 x 100-foot lots.
In 1974, the Richmond City Council proposed to change the house numbers to larger numbers to accommodate its growth. In 1977, the house numbers finally changed, including the Burkeville houses. For instance, 2 Wellington Crescent became 20 Wellington Crescent, 27 Catalina Crescent became 271 Catalina Crescent, 42 Douglas Crescent became 420 Douglas Crescent and 233 Boeing Avenue became 2331 Boeing Avenue.
Renting and owning a Burkeville house
The Burkeville houses were first rented to workers from Boeing for about twenty dollars per month. Boeing gave priority to families with children. In January 1944, Burkeville's first residents Mr. and Mrs. M. Neville and Mr. and Mrs. Ernest Jordison moved into their new homes.
Towards the end of August 1945, following V-J (Victory over Japan Day) Day, the Wartime Housing Ltd. started renting the Burkeville houses to returning servicemen and veterans. In 1945, Mrs. Helen Irene Eastman was allotted 233 Boeing Avenue by the Wartime Housing Ltd. for her family. Her husband, F/Lieutenant Eastman returned from overseas and joined his family on Boeing Avenue in November 1945. Her son Doug is not sure how his mother received approval from Wartime Housing Ltd., but he believes it might have been through the Parson family who lived at 233 Boeing Avenue before they did. Mr. Parson worked for Boeing, and as the Boeing Aircraft Plant No. 3 closed in the early fall of 1945, the houses were made available to returning veterans.
In 1947, the Richmond Council passed a bylaw which brought Burkeville into the Municipality of Richmond. When this happened, the Municipality agreed to surface all the roads, and to proceed with the building of an elementary school with at least six rooms and take over all the Burkeville houses. The Burkeville houses were then sold to sitting tenants and returning veterans. The "small four" had a price tag of $2,500 while the "large four" had a price tag of $2,800.
Sea Island Elementary School
Due to considerable government intervention and bureaucracy, the Sea Island Elementary School was not built until September 1947. The grand opening of Sea Island Elementary School took place on October 17, 1947.
In 1981, Sea Island Elementary closed for the first time. After years of protest by Burkeville parents, the school reopened in 1991, but due to diminishing registration, it closed for a second time at the end of the 2020 school year.
Sea Island Community Centre
The heart of Burkeville's social life was the community centre, which had originally been the Cooney Barn. The Sea Island Community Council was an original idea of the Wartime Housing Ltd. to foster a healthy community spirit. The Cooney Barn became the Sea Island Community Centre and still exists today. It is located at 7140 Miller Road on Sea Island.
Acknowledgements and References
---
The Society is grateful for conversations with Grant Thompson and Doug Eastman, as they recalled and shared more details of their personal experiences living in Burkeville.
Boeing Beam Newsletter Vol. 1, No. 22 (October 29, 1943), Contest Judges Choose Burkeville as Name for Big Sea Island Wartime Housing project (page 3), Boeing Aircraft of Canada Ltd.
City of Richmond Council minutes (November 22, 1974, August 25, 1975, and January 28, 1978), Street Address Renumbering.
City of Richmond, Burkeville, Online Heritage Inventory. Retrieved on November 12, 2022.
Mary Keen's history of Sea Island A Bridge to the World (Burkeville on pp. 34-37), available online as a PDF. Retrieved on November 6, 2022.
Leslie J. Ross' Richmond Child of the Fraser (Challenges to Growth: Depression and Word War II pp. 168-169), available online as a PDF. Retrieved on November 6,2022.
Burkeville Today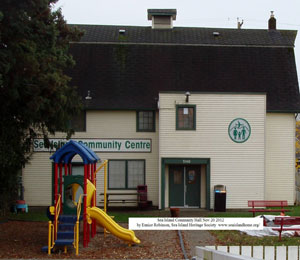 Burkeville remains the only residential area on Sea Island. Some of its unique small houses remain while others have been replaced by new homes.
Fire Hall No. 4, Sea Island Elementary and the Sea Island Community Centre can be found in this small community of 300 plus houses surrounded by the endless expansion of Vancouver International Airport.
Tell Us About It
---
If you have something you would like to provide to the society, please let us know.
We would love to hear from you.